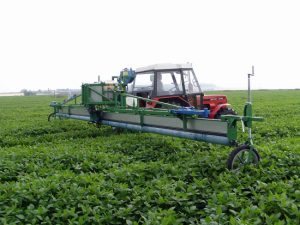 KAH – 04
KAH – 04 is a rotating contact herbicide applicator.
Good for elimination of bolts, weed beets and tall and overgrowing weeds in other crops.
Why contact herbicide applicator?
Reasonable cost and cheap operation.
Can be used to eliminate tall weeds in various cultures such as sugarbeet, vegetable crops, grasses, etc.
After weed elimination your crop receives maximum humidity and sunlight leading to higher production yield.
Remote-controlled for easy operation and nozzle control.
Quick mat replacement if required.
Easy maintenance.
Easy maintenance – set the working drums above the culture and all taller weeds will be wiped.
The machine can work in variable heights and can kill a wide range of weeds.
Saves money – the agent is applied only to the part of the drum that gets in contact with the weeds.
Environment-friendly – the agent does not splash around – solid polycarbonate nozzle covering.
Relatively low concentration is enough to kill weeds – weed-free crop means higher yield.
12 months warranty period.
All the used parts and components are standard serial products and therefore easily available on the Czech market. The machine meets all the required standards and licences for operation within the EU.
Full service during and after warranty period.
Key technical data
| | |
| --- | --- |
| Type: | KAH-04 |
| Working width: | 12 m (two arms) |
| Working height: | min. 30 cm – max 120 cm |
| Scope of use: | The machine is designed for agricultural application |
| Equipment: | Remote control, area measuring, cardan shaft |
References
Tereos TTD cukrovar České Meziříčí
Mr. Rieger – 602 405 712
Tereos TTD cukrovar Dobrovice
Mr. Sobota – 602 318 8601
Volanická zemědělská, a.s.
Mr. Zmátlik – 739 476 683
Maribo Seed
Mr. Bittner – 602 411 702
Mr. Migdau – 601 581 871