This product is not currently available!
---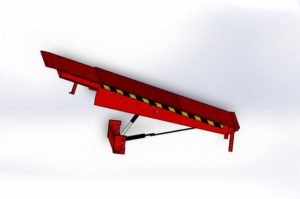 NDK-V 2.5 je is a hydraulic dock leveller with telescopic contact lip, driven by electro-hydraulic unit. It is made of high-quality construction steel, the platform and contact lip are made of non-slip metal of higher quality. The leveller meets the CE requirements of standard ČSN EN 1398. The leveller can be supplied in two modifications: NDK-V 2.5/500 = 500 mm and NDK-V 2.5/1000 = 1000 mm long contact lip.
Key characteristics
The platform is lifted by a robust hydraulic piston rod with 65 mm outer diameter and the contact lip is lifted by Ø 40 and 50 mm piston rod.
Colour finish – black, red, blue; we can also supply different colours upon request.
Regulation of the length of protrusion of the telescopic contact lip.
The leveller automatically copies the motion of the loaded surface during loading and unloading.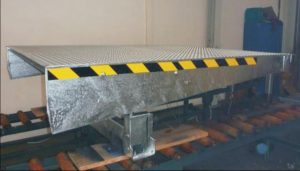 Control
The dock leveller can be connected to a multi-function control unit on industrial gates or via our separate control box designed specifically for this leveller.
Control box features
Main switch.
Manual operation key.
Key for automatic return of the leveller to its default position.
Motor protected against overload.
Input for gate status control – leveller/gate blocking.
Automatic switch-off of the safety valve upon return to default position.
Indication that control, motor and valve are on
Input for default position end limit switch – switches off the oil valve without the need to turn off the main switch.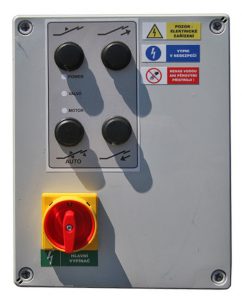 Technical description
The base frame is made of construction steel reinforced both in lateral and transversal direction.
The platform and contact lip are made of quality grade 11 non-slip metal.
The hydraulic unit is fixed under the platform – less prone to damage.
Technical data
Lenght:
2500 mm
Width:
2000 mm
Construction height:
700 mm
Load:
6000 kg
Motor power:
0,75 kW
Effective voltage:
400V/50Hz/3A
230V/50Hz/5A
Effective pressure:
120 barů
Operating temperature:
-35°C až + 55°C
Contact lip lenght:
NKD-V 2,5/500
0 – 500 mm
NKD-V 2,5/500
0 – 1000 mm
Images
Video
Download attachments:
References
Entros Sp. Z o. o.
Mr. Pogubilo – 0048 17 789 22 39